Haha, this could be the title of a movie… "One night and one day in San Sebastian"…It is not. It is my adventure day in San Sebastian, in the North of Spain, after a surfing trip that did not go so well. I am still recovering from that trip so I will write about it later. For now, I can tell, I was happy to have that day in San Sebastian (Donostia in Basque) to somehow compensate my bad experience.
San Sebastian, a pintxo paradise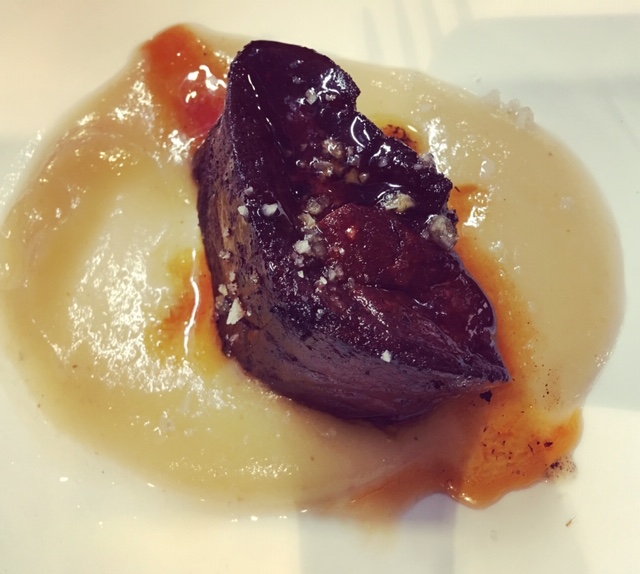 San Sebastian is one of those European cities, like Lyon in France, whose identity cannot be dissociated from its culinary fame. Indeed, San Sebastian is home to countless Michelin-starred restaurants, pintxo bars and gourmet shops. This time I focused on pintxo bars. I had some in Barcelona but the ones offered in San Sebastian are much better.
First of all, what is a pintxo? It is a piece of bread with toppings usually speared with sticks. Normally, you pick them up from a counter and at the end of the night you pay for them showing your total number of sticks. In San Sebastian, small dishes are also considered pintxos. The normal way of going for pintxos is on a pintxo crawl: have one pintxo and a drink then move on to the next place. In each place, I tried a few dishes therefore I could only visit a limited number of pintxo bars. I want to say though, this city is a pintxo paradise with so many bars offering from traditional pintxos to experimental and creative ones.
Barcelonabyt's pintxo places in San Sebastian
So I did not get to eat in many places. But the ones I tried… OMG… were all fabulous. Most of the good places are in the old city. Around the 31st of August Street it seems.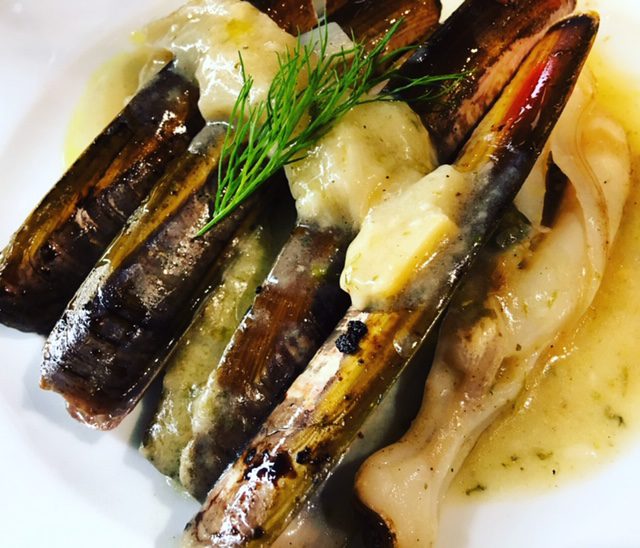 My favourite one is La cuchara de San Telmo. It had no single pintxo displayed on the bar. The offer was written on a board and everything made to order. I went with what I think I would like. Here I had an amazing pintxo of foie gras with apple compote. I also had kokotxas (hake cheeks), my least favourite dish although good and a plate of razor clams with a glass of cider (for 1.5 euros). That was the most amazing razor clam dish I have ever had in my life. They were outstanding. They cost 9 euros a plate of 4. Pintxos should be worth between 1 and 3 euros in general. It is not so true. My foie was 4,5 euros and the hake cheek 5 euros. But here the ingredient were high quality and very fine.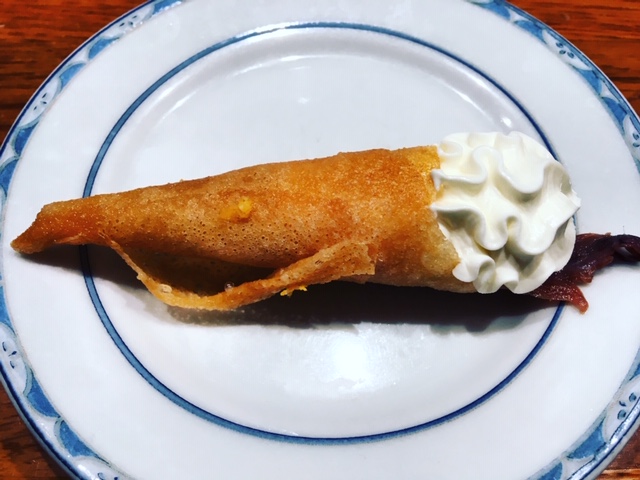 My second address is La Viña for their specialty, a pipe of cream cheese with anchovy. It won an award in 1999. Quite a while ago but I can see why. It is crunchy, creamy and salty at the same time. What a delicious morsel… I also had two meatballs that were so good. Then noticed that locals and foreigners were raving about the cheesecake. Apparently THE best cheesecake in Spain. So I checked what the deal was about. And… it was pretty disgusting… Just kidding, it was creamy yet firm, not too sweet…It was just sensational. La Viña is more traditional than La cuchara de San Telmo. There were dirty napkins on the floor, pintxos on the counter and batches of cheesecake at the end of the bar. The prices were more "decent" too: 2,30E for a meatball; 2,5E for a slice of cheesecake; 2,20E for the canutillo.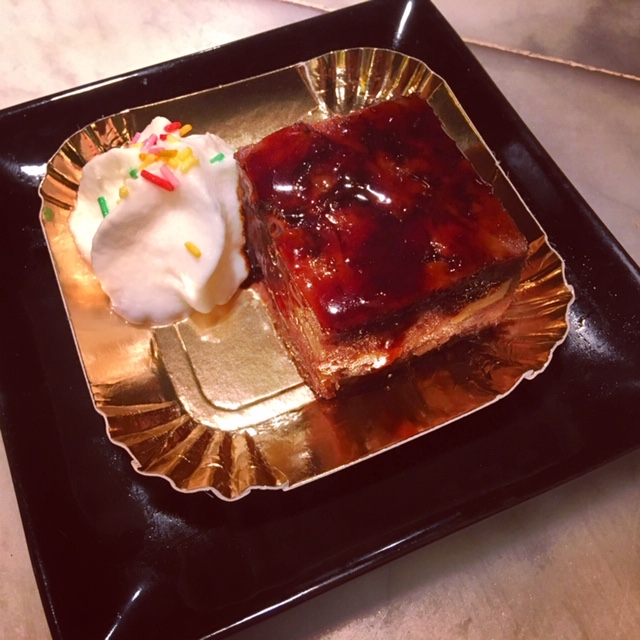 Then I went to Fuego Negro, more modern with creative and cute pintxos. I wanted the fat olives with vermut jelly but it was quite huge for me only. So I ordered a makcobe, a mini burger with cobe meat, their star dish. It was nice. The rabbrownie looked intriguing. The richness of the melting tail presented like a brownie combined with a lightly sweet cream worked well. I also had the tigreton de mejillones: a verrine of mussels, tomato puree, bechamel and pork rinds bits. The verrine was light given that it had bechamel and pork rinds. Very nice. My favourite pintxo was a skewer of fat olive, chili and anchovy though. So simple yet so tasty. Prices were in between La cuchara's and La viña's: tigreton, 3,60E. 3,90 euros for the rabbrownie and the makcobe. 2,5 euros for the skewer.
What to do when you don't eat pintxos?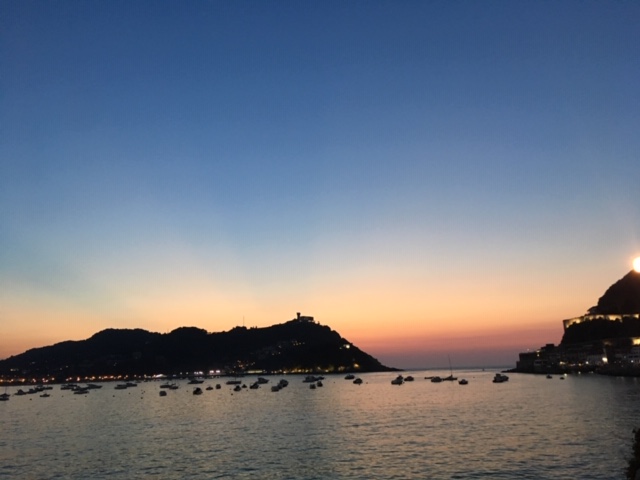 So what did I do when I was not eating pintxos? I arrived late on thursday afternoon, walked from the train station to my accomodation: Roger's house, conveniently located in the old town, close to the pintxo bars. Jeje. It is a lovely appartment with shared bathrooms and kitchen. Once I checked in and settled, I left for pintxos to Fuego Negro. I was so full after 4 pintxos…Then I headed to Market San Martin to meet with the friends I made at the surf camp and attended a live concert. The market had a few food stalls. One had sushis for one euro each. Then we walked around the old town for more pintxos (for the others, I could not eat more). At one point, we had drinks on the stairs of the Basilica de Santa Maria and soaked up the atmosphere.
I did not have much alcohol on that trip but I drank a few glasses of cider. Cider in Basque Country is an institution. It is poured from a long distance to aerate. You get a small amount in the glass and you have to chug it straight away because if you wait to long it won't be drinkable as it loses the aeration. Chemical reactions…I still have pending on my to do list a visit to a proper cider house for the food but also for unlimited cider from the barrel for the fun of it. I will probably stop at two drinks but getting the option is nice.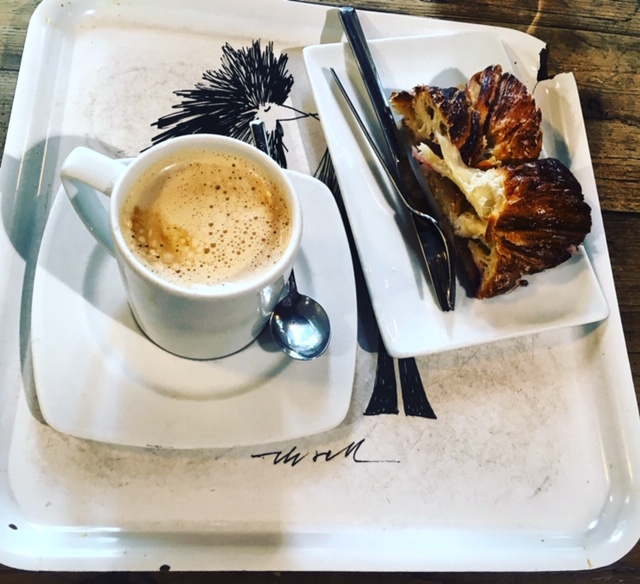 On the friday morning, I went to the Guipuzkoa Square with its romantic garden and its cafés. I entered one and was surprised to see people eating pintxos for breakfast. That was way too early for me. So I found a very nice bakery/café called Gogoko Goxuak. It had a wide selection of pastries. I got a plait with red berries and a coffee. The plait was so nice I had two slices. It goes by the weight and 120gr of plait is worth 2,40 euros.

Then I went up Mont Urgull, near the old town. On top of which stand a Christ statue overlooking San Sebastian like the one overlooking Lisbon and Rio and a castle, Mota Castle. You can only walk up there through paths bordered by a lush and green vegetation. The walk is lovely. There is a free visit about San Sebastian in the castle and you can go up the terrace for a viewpoint of the city.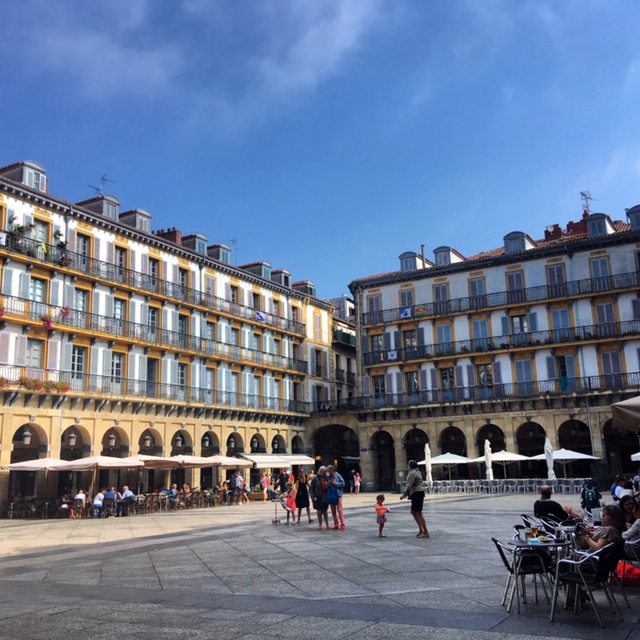 In the afternoon I walked around the old city including the Constitution Square, famous for being an old bullring and its neo-classical buildings. On the balconies, we can still see a number that were allocated to them. The town hall used to own the balconies and rent them out to spectators.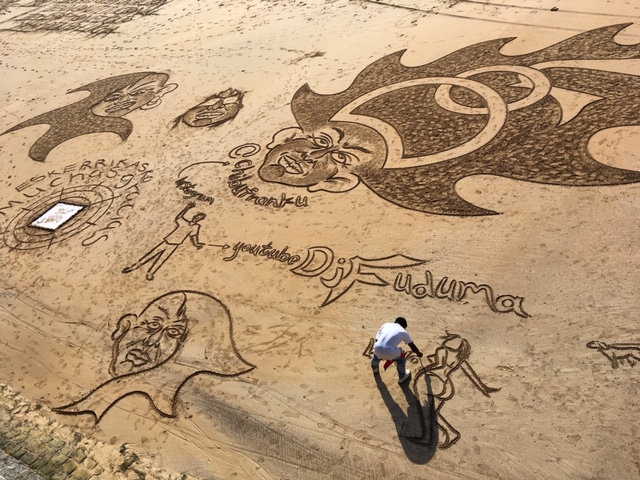 Then I headed towards the city hall, a massive and striking building overlooking Concha Beach. Concha Beach is San Sebastian's iconic shell shaped beach (hence its name) also famous for its guardrails. A man was drawing in the sand. He was quite skillful and I want to help him out by publishing a picture of his work on my blog.
The end…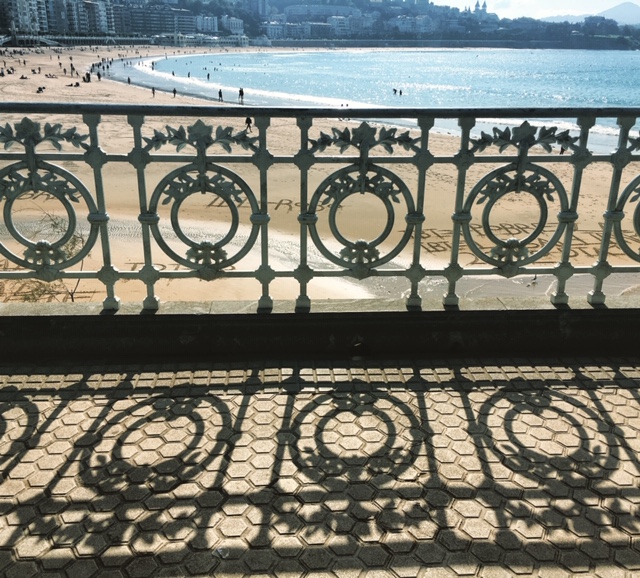 The best way to discover San Sebastian in my opinion is to go on a walking tour. I found a free one run by Golocal tours but I had so many pintxos for lunch I was not motivated to walk around. I was in San Sebastian at the same time as the Film Festival as well however I did not see any movies nor Robert Pattinson. Sad smiley face…
I ended the day meeting up with my new friends for the last time then I left San Sebastian on a bla bla car. It has not been a great Bla Bla car experience surprisingly. I am used to have many great bla bla car trips. But that trip is a material for another post.
I have not seen everything in San Sebastian. So I plan to come back. Then I will check out more pintxo bars, a michelin-starred restaurant and the Comb of the wind. I will also go to a cider house and hike around… Too many things to do still… Soon we will meet again San Sebastian!
Adresses:
La cuchara de San Telmo – Santa Korda Kalea, 4, 20003 Donostia, Gipuzkoa
La Viña – Calle 31 de Agosto, 3 | Casco Viejo, 20003 San Sebastián
Fuego Negro – 31 de Agosto Kalea, 31, 20003 San Sebastián-Donostia
Mendaur – Fermin Calbeton Kalea, 8, 20003 Donostia,
Roger's house – Juan de Bilbao, 13 – 20003 San Sebastián
Gogoko Goxuak – Andia Kalea, 11, 20004 Donostia
Go locals Tours San Sebastian – Sarriegi Plaza, 9, 20003 Donostia