This year, so far, I did two big trips. A 4-week trip to Madagascar which I will write about and a weeklong one to Marrakech (Morocco) for 6 days.
I had been to Marrakech before but in my memories, we did a lot of touristy activities and I did not get a real feel of the city. This time I hoped to have a deeper experience. Let's start by our accomodation.
A wonderful stay in a riad in the Medina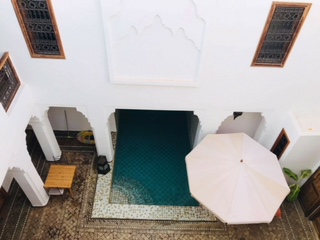 My first time in Marrakech, we were in an all inclusive 4-star hotel located outside the city. This time, we stayed in a riad in the medina. A riad is a traditional Moroccan house with an interior garden or a courtyard. The one we stayed in, RK Riad, has been converted into a hotel. It has a small swimming pool, a terrace and is two-storeys high. It also has a hammam and offers some massages. I did not try them so I cannot comment. The rooms were really spacious with a touch of Arabic decoration.
This riad's location is great because 1) it is in the Medina, basically, the old city with its narrow streets and surrounding walls. And 2) it is close to a gate (the Laksour Gate). It is quasi impossible to drive inside the Medina so being close to a gate is handy for pick-ups and drop offs. It is also handy to avoid the Djema El Fna square. If you need help with your suitcases, use the traditional way: there is a guy going around with a cart to carry bags.
The staff was very nice. They were available 24h a day and organised activities upon our request. We were welcomed with hot mint tea and Moroccan pastries on our arrival. I miss those fragrant mint teas a lot now that I am back to Barcelona. Mint tea is available for free. Guests take breakfasts, lunches and dinners in the courtyard. Breakfasts were generous: Moroccan bread, Moroccan crepes (Msemen, miam) with jam, honey (with its share of flying bees) and butter, delicious eggs, mint tea, coffee, milk, freshly squeezed orange juice, fruit, semolina cakes. Never thought you could make delicious cake out of semolina. I discovered there that Moroccans don't use pepper. Instead they leave salt and cumin on the table. I have not tried lunches or dinners here, so I cannot comment.
Marrakech's medina living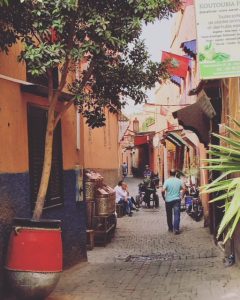 Living in the Marrakech's medina is far from being boring. It has small streets in which you could get lost. Once I was on my own and could not find my way back. I almost suffered a claustrophobic attack.
The medina is always full of people especially on the commercial lanes which is pretty much all the lanes. What makes it fun also makes it quite daunting and pretty tiring. Example, merchants and touts call you out to their shops every day without fail even if they see you every day… without fail. Sometimes it is funny, sometimes it is ok, sometimes it is exhausting. Or the motos stories described a bit later in this post.
In the Medina, there are shops, souks, restaurants, a veggie market, food stalls, riads etc. Everything you want and need you can pretty much find it in the Medina. Ok, not sure about electronics…For necessities, it does not have a supermarket, but they have small shops that sell goods from water (6/7 dirhams) to hygienic pads. In that sense, the medina can be so organised and yet chaotic.
The scariest yet most surprising sights are the ones of the motos. They really speed inside the narrow streets. But somehow manage to avoid walkers, like in Asia. Thank God, in one week in the medina I did not see anyone being hit. I also saw beggars, a few women with small kids. Even though they were covering their entire heads and body, you could feel their misery.
Another new experience to me was the calls for prayer from the Imam, 5 times a day. Then you see the believers rushing to the Mosque. The first time I wondered why those men were running out of a sudden inside the Medina. Then I made the connection. This is such a different lifestyle from Barcelona and what I know.
Moving around in Marrakech
The 6 of us arrived at Marrakesh Menara Airport. The first 4 left very rapidly the passport control. The remaining two had to queue 1 hour as the police officers took all their time to check each passport. Then we got a taxi outside. Our trick when we travel is to ask a normal bystander the prices of things. For instance, we asked the girl who sells phone cards in the airport hall, how much a taxi to town is. She said 100 Dirhams (10 euros). Ok. That will be our reference price.
In Marrakech, there are two sorts of taxis: small ones and big ones. Only 3 people can fit in a small one. It is a rule drivers strictly obey. We were 6 of us so we got a big taxi. Our taxi driver would not bulge below 230 dirhams with the bags. We just arrived, we wanted to arrive as quick as possible to the hotel, we hopped on the car and we paid the price. It revealed that the trip from and to the airport, independently of the size of the taxi, is 100 Dirhams. Ok…
In the city by day, the story is different. For small trips, the price of the journey is 10 Dirhams. Sometimes it felt so cheap that it made me feel uncomfortable, but it is the price.
For longer journeys, we negotiated. But to ensure not to get ripped off, we used our trick of enquiring the cost of things to an uninterested party and base ourselves on that for negotiation. In Marrakech, taxi meters don't work. Maybe a consequence of the heat 😉…
By night, we had to negotiate our taxi price. We paid a trip from a nightclub in the new town to the medina 30 Dirhams in a big taxi. Some taxis won't go under 50 Dirhams. We got a nice driver that night and our entire group hired him to go back to the airport at the end of the holidays.
It is possible to get a taxi to other cities as well. But it is quite expensive compared to the bus. We asked the price for a day trip to Essaouira. A big taxi for 6/7 people was asking 90 euros. Maybe it is cheap, maybe it is expensive. We did not go. However like everything else in Marrakech, the fare is open to negotiation.
For our other trips, we hired mini buses we booked through our riad.
Money, bargaining and stuff…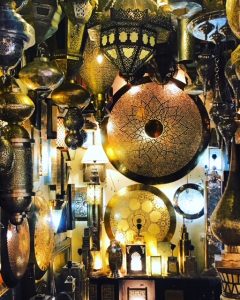 In modern places in Marrakech (restaurants, shops, museums), you can pay with a credit card. Sometimes the rate they offer is better in Euros than in Dirhams. So we always asked the conversion.
In most places, cash is king. And it is better to have small changes especially if you buy things from street merchants. We have not really experienced pick pockets. They "stole" from us in a different way: through bargaining. Haggling annoys me. I never know whether I pay ok-ish or too much, because, hey, I never had the feeling I paid too little.
I was going to write a whole paragraph about bargaining techniques having grown up in a country where haggling is a custom. But to be honest, after so many years living in Europe, I got rusty. Here is my way. I have a pretty good instinct so most times I am not too far off. Whether I follow my instinct or not is another story.
On our first day, I bought some oriental slippers in the souk. The stall owner asked for 200 Dirhams, I proposed 80. Then the merchant told me "Come on, let's talk serious money". Ok, serious money for him then. There I thought I hit the correct price. Some other members of my group said they found my slippers for 70 dirhams elsewhere which confirmed my intuition. Ouch, I did buy them 50 more because I thought maybe in the end 80 was too cheap. Right…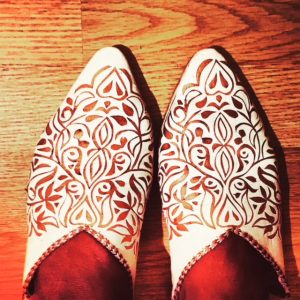 To sum up ask around the value of things beforehand (to your host, to other merchants) and only pay the price that makes you feel good. Look for hints like this sentence "Let's talk serious money". Sometimes if you walk away it gets cheaper, way cheaper. Don't feel guilty, they won't sell if they are not happy to sell. Think about it and don't pay more than what you would pay in Europe. I just realised that since I moved to Spain, I get less ripped off. That is because things in Spain can be quite cheap therefore closer to prices in some foreign countries. For Irish people for instance, it can be a different story because prices in Ireland can be so high.
In the streets, it should be even cheaper as it is informal economy. Always have small changes I repeat because street merchants don't always have change on big notes. There you go. Now you are armed with some weapons to bargain and get less ripped off. Let me know if you try!
Adresses:
Riad RK: 47 Rue el Ksour, Marrakesh 40000, Morroco
If you want any additional information, contact me at t@barcelonabyt.com