Haha, I have just realized that quite a few of my food posts are related to Asian or Latin American food (Nomo, Ramen Ya-Hiro, La torteria mexicana etc.).  And guess what? This post is about a place that offers both cuisines.  Last Monday, we  discovered Hawker 45.
Ze place!
My food partner in crime and myself discovered Hawker 45 while walking in Carrer Casp. Both experienced travelers, the name of restaurant, Hawker 45, immediately called our attention.
It reminded us of hawker centers or the food courts in Singapore. When I was in the country, I used to find different food stalls with different dishes usually quite cheap in those hawker centers.
The restaurant has an outside tiny terrace with plants that gave it a tropical air. The drawings on the wall strongly reminded me of street art in Malaysia. Intrigued and interested, I put this place on my to go list in Barcelona.
Hawker 45, street food redefined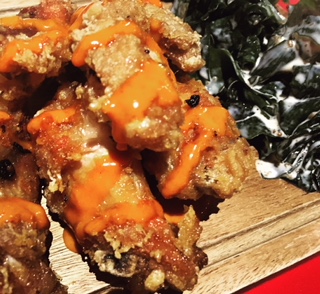 And then last Monday, we came to eat. As its name strongly suggest, Hawker 45 is all about… street food. Their menu shows dishes from Vietnam, Thailand, Korea, Peru or Mexico. A lot of countries I have visited represented in one restaurant…I like this place already. The inside of the restaurant is simple with an open kitchen so you can see the chef cook. The terrace is cuter if you'd ask me. But although the decor is part of a food experience for me, it has never been an indicator of how good the food is. So I won't judge the place on this. 
Hawker 45 proposes revisited street food dishes. The first dish on the menu is called "pho bombs" (potato croquette, beef cheeks, pho reduction, aioli, sriracha emulsion) a strong allusion to Barcelona's bombas I guess. It sounds interesting. Everything on the menu sounds appealing. We made our choice: a korean dish of chicken wings, a sambal from Singapore, a thai salad and kalbi short ribs from Korea. If we still have room, we will go for a dessert later.
Our experience
The dishes are medium sized. Good, if we try a few things, we won't be too full. Presentation is clean, elegant and appetizing. The wine menu is extensive and the selection looks great. That night we only drank filtered water, no alcohol, so we won't find out about the eco wine or any other wine. Another time…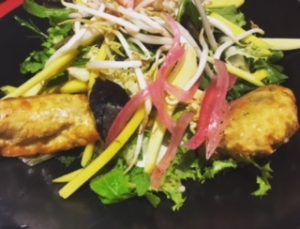 I really loved the wakame salad an equal star of the chicken dish together with the wings. I also loved the kalbi short ribs which are beef short ribs Korean style. They were falling off the bones.
We ordered the mango salad. I am an expert in mango salads hehe. I have converted many to savory mango salads. When ours arrived with its bed of lettuce I was skeptical but it had been tasty with a nice acidic dressing. The accompanying prawn dumplings were so flavoursome. But our favourite dish is the sambal. The fish was nicely cooked.
All the dishes where so different from one another but equally tasty.  To finish the dinner off, we shared a dirty ice cream, from the Philippines: street ice cream sandwich, brioche, salted caramel, coco ice cream and chicharon. If you are not familiar with this ingredient, a chicharon is a piece of fried pork belly or fried pork rind. Hehe, the mix could sound a bit revolting like "what? fried pork rinds with coconut ice cream???" but believe me it works. The brioche is more like a fried doughnut, no taste, then some saltiness with the salted caramel, then some sweetness with the ice cream and somewhere in the middle the bits of chicharon. It was fun to eat and delicious.
We paid 49 euros for 5 dishes. To conclude, it was a nice and fun food evening with top notch revisited street food and on top of it the staff was very nice. I recommend it!