Are you a seafood lover? Then La Paradeta is the perfect place for you! I had brought friends and family here and everytime the food was a hit among them.
That shellfish bar…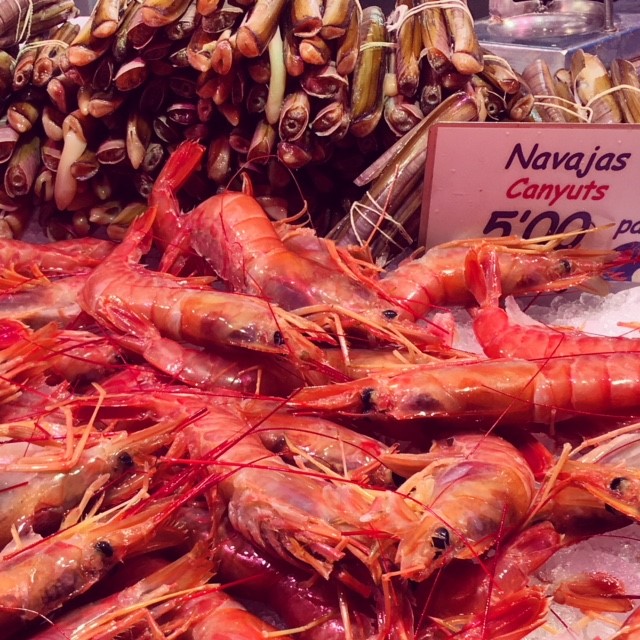 So what is so special about La Paradeta? The whole eating concept is unusual: first, the entire place is dedicated to seafood and fish. You can also order a basic salad. Then you place your order at a shellfish bar like at the fishmonger. The fish and the seafood presented are raw. The choice is wide: baby octopus, baby cuttlefish, whitebait, lobsters, tuna, monkfish, mussels, oysters etc…For each type of fish and seafood, a price is displayed. The customer then makes a choice which is weighted and priced. The fishmonger asks for your preferred cooking method (fried, a la plancha or with a marinara sauce) then sends you to pay at the till.
At the till, you can orders drinks, sauces and bread. You pay before you seat. Don't forget the receipt because the kitchen staff will use it to follow up on your order.
Sit at a table, wait for your seafood dish and…enjoy!
Once the food paid, you get a seat and wait for your table number to be called out. The kitchen staff calls out each table number everytime one dish is ready. As there is no waiter, you then have to pick it up at a kitchen window yourself. They strike each dish they serve out of the receipt. You got it…La Paradeta is entirely self service.  As a matter of fact, there is also a second window where you can drop dirty plates at the end of your lunch or dinner.
There are 7 restaurants in Barcelona and Sitges: Sants, Born, Sagrada Familia, Sitges, Meridiana, Passeig de Gracia and Parallel. Despite the number of restaurants having increased, there is always a queue outside – you cannot also book a table.  But I can understand why: the food in La Paradeta is simple but tasty. My favourite is the baby octopus dish a la plancha with olive oil, parsley and garlic sauce. The choice of wine is quite good too. I have never been disappointed by a bottle of white here.
Restaurant adresses:
La Paradeta Sants -C/ Riego 27, 08010 Barcelona – Tel. 934 319 059
La Paradeta Born – C/ Comercial 7, 08003 Barcelona – Tel. 932 681 939 – Access: Metro Arc de Triomf (L1), Barceloneta (L4), França station (Renfe)
La Paradeta Sagrada Família – Passatge Simó 18, 08025 Barcelona – Tel. 934 500 191 – Access: Metro Sagrada Familia (L2, L5)
La Paradeta Sitges – C/ Sant Pere 24-26, 08870 Sitges – Tel. 938 949 323 – Access: Sitges station (Renfe)
La Paradeta Meridiana – C/ Pacífic 74, 08027 Barcelona – Tel. 935 346 557 – Access: Fabra i Puig (L1) | Sagrera (L1, L5, L9, L10, Renfe).
La Paradeta Passeig de Gràcia – C/ Consell de Cent 318, 08007 Barcelona – Tel. +34 930 181 164 – Access: Metro Passeig de Gràcia (L3, L5, Renfe) | Plaça Catalunya (L1, L3, Renfe)
La Paradeta Paral·lel – Avda. Paral·lel, 46, 08001 Barcelona – Tel. +34 936 314 278 – Access: Metro Drassanes (L3) | Paral·lel (L3, L4)
For more info, click on their website.