2 weeks ago I went to Impromagia's show in the MEAM, the European Museum of Modern Art of Barcelona. When I got the invitation from my friend, I did not hesitate much. I love the MEAM, the art it displays and the events it organizes. You can read my post about a great blues night I had here in the past as a testimony…. I also had curiosity. Indeed, the show combines theater improvisation with… magic. Mmmh…Interesting…
We bought our entrances online for 10 euros. Luckily we got seats. The room where the shows happen is not huge so you need to be early to get good seats. Our seats were so good that the first improvisation of the company was with…me. Yes, me. They picked me out of the crowd… At first, I was not sure they addressed themselves to me since they called a certain Lucia. But it seemed Lucia was myself. So I played the game and it was quite cool!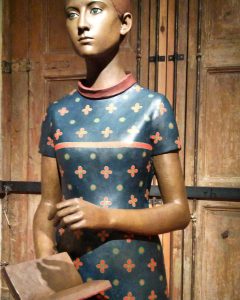 The first show was a bit too long with a lot of talking to the point where I was wondering if really it was about magic too. But the magic came and it was bluffing. I won't reveal too much (policy of the house when reviewing shows as you have noticed ;)). The stories were interesting, sometimes full of fantasy. Quite funny too it seems. I still have a bit of a language barrier as it was in Castilian – or Spanish if you prefer – but I got some of the jokes.
For me, the biggest challenge of the troupe was to make up the stories with the pieces the public was throwing at them. Yes, the public participates a lot in the show. The second challenge was to make the stories funny.  And the last challenge was to integrate the magic tricks into the improvised sometimes incongruous stories. They were bluffing (did I say that before already??). The last one in particular. All these aspects put together make that show a unique one since it won't repeat again. So it is kind of special, one more reason to go and see it!
I had been trying to understand the magic tricks. But in the end, the point of magic is to be magic and so to remain mysterious…You just need to watch, appreciate and have fun! And oh…as usual, there is a bonus to go to any of the MEAM's events as you get to visit the museum at the same time as the event. During the month of march, there is a sculpture exhibition of Jassans, a Spanish sculptor.
Impromagia still performs in the MEAM for several dates until july 2017. To book your ticket, click here.