I got lucky these days. I got the opportunity to spend a flash weekend in Paris. A goodbye week end with my mum after all the little adventures together (laser tag, Boqueria lunch, dinner dans le noir)! She was flying back home to the southern hemisphere and was stopping by Paris for the week end!
My flight arrived late at Orly friday eve and to celebrate the weekend I indulged myself with a Ladurée macaroon, a symbol of Paris for me. Pistachio, my favourite flavour for now. They even have a tea room within the airport.
It took me more than one hour to arrive to my hotel. With the Orlyval it is quite easy to reach the city center but I got lost twice on my metro changes after 8 years living in this city, bouh! Our hotel was in the 13th arrondissement. We love this area as it is close to many interesting areas: home to Chinatown but also to la Butte aux Cailles (a very cute and historical neighbourhood…), the great Bibliothèque Nationale de France and the trendy bars and shops around… I also used to live in this area so I know it quite well.
Our first stop in the morning was a bakery, Le grenier a pain, artisanal, now an international chain it seems!  They makes fabulous cakes. We share a pain aux raisins and a cake (litchi raspberry) sooo buttery, sooo tasty and sooo refined!!! This is why I love Paris. It is a food paradise for the one who knows where to go.
Trying a new place to eat in Paris
A few errands later and we headed to our lunch place, a restaurant called "La Fabrique de Bouchons". It is a small place with a warm decor. They offer a cuisine de marche which I understand is a seasonal cuisine with fresh products.  They only have one menu for lunch: 20 euros for 2 dishes, 23 euros for 3.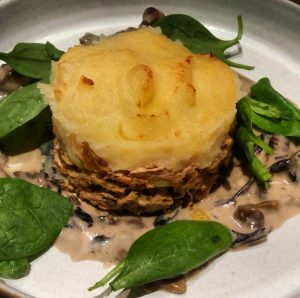 At first, I got disappointed by the very restricted menu: less than 10 dishes, only one dessert… It was not that many choices. Plus I did not cross the whole Paris for a parmentier (potato and meat dish)…but now that I am seated, I'll do with it. We ordered a main and a dessert each so two parmentiers de veau confit au citron sauce aux champignons et epinards (as per the photo: veal parmentier with lemon confit mushroom sauce and spinach). La Fabrique de Bouchons offers contemporary french food revisited. The parmentier which I consider a comfort food is quite light and it had a twist, the "confit au citron" which for me is a tropical flavour. It worked well and the confit was very subtle.
The dessert was either cheese or a sweet dish. We ordered each one of them. I am not a cheese fan but I liked the ewe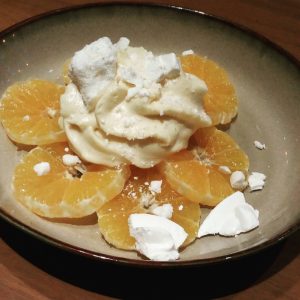 cheese, the Ossau iraty. It was actually amazing, the best cheese I had in months. And it seems to be trendy because another trendy restaurant I want to try out offered it too.  The sweet dessert was a clementine carpaccio with a honey and lemon espuma and some meringue. It was light and airy. Again, I was skeptical when ordering. I did not come to Paris to eat clementines …but it was actually very nice.
We had two glasses of champagne and a bottle of sparkling water. In France, I like all things bubbly. In France, the bubbles are so thin and the taste so subtle, you barely feel them  and yet they "petillent". They lightly sparkle on your tongue. I love them!
I consider Paris home as I lived here many years so we finished the evening at the movie. Not anywhere though. At Bercy Village. It is a very charming open air shopping area. All the shops and restaurants are inside old warehouses for wine. And in the middle you can still see some rail tracks. And at the other end, you have cinemas. The place is also very handy because then after the movies, you can go for a drink or for dinner around.
Promenade du dimanche on the Parisian canals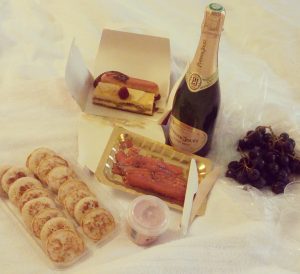 On the sunday, we decided to have our own home made in Paris brunch. In our hotel room. A kind of "pique nique moquette" (like in Pretty woman where she had champagne and strawberries on the moquette. Ahem… the resemblance stops there). We went to Nicolas, a chain specialised in wine selling. They had an amazing selection of champagne. And we got a bottle of Perrier Jouet, some other goodies and cakes from Le grenier a pain (again!). It was so yummy!  A piece of heaven thrown on a bathroom towel.
Then, we left for our "Promenade du dimanche" or simply sunday walk. I have always wanted to walk along the Canal Saint Martin. An area that I don't really know in Paris. We got the wrong directions at the beginning. So instead we went around the Canal de l'Ourcq which is equally interesting with trees wearing their autumn colours, people walking and eating and the barges docked on the river. If you want you can rent boats or get a tour on the canal. All this was so… parisian!
We crossed the canal on a bridge, went back on our steps and walked towards this time the proper Canal Saint Martin.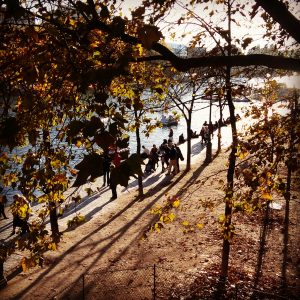 We got lucky, the sky was blue even if it was chilly. I am based in Barcelona where winters are really mild.  So I had my "winter" clothes on: a coat, boots, scarf and hat. And yet I found it was a bit chilly. So what next was quite a shock for me. I started to notice more and more tents on the riverbanks and then some teenage boys dressed in a middle eastern way. Then I realised that I was walking among refugees.
The boys seemed quite happy playing with a ball. But I cannot imagine the kind of lives they are having. With my cosy winter clothes I was still cold, what about sleeping on the stones by the river? I guess still better than a country in war but still. What kind of hopes about their future can they have in those conditions? That was the saddest part of my trip.
The end of the trip with asian food
And then I kept walking. I feel for them but there is not much I can do for now. So life goes on. The Canal Saint Martin is really beautiful. I particularly liked the buildings around it. Then we randomly turned to our right trying to reach the Gare Saint Lazare. On the way, we entered a park, the Jardin Villemin. I did not know of its existence until that day. It small but well fitted – no toilet though. We saw a pavilion with a gipsy jazz band… Lucky us again! We listened to the concert a bit then continued our way. On our way out, we saw a plate commemorating the massacre of Jewish kids and men and women during the WWII. Paris is also that, a city full of history, sometimes sad, sometimes spectacular!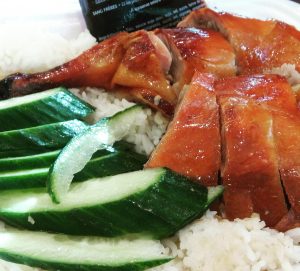 Then it was time for dinner. Ok now I can tell you: the reason why we love being in the 13th arrondissement is because there are plenty of amazing asian restaurants other there. One of our favourite is Mondol Kiri, a cambodian restaurant. I recommend everything on the menu except for the "porc caramel" (pork with caramel) absolutely not the best. Each time I order it because I love it and everytime i am disappointed and then I remembered I did not like it so much in this place…Apart from that the food is delicious and full of flavours and the owner is really friendly and always smiley. Asian hospitality!
My trip ended on the tuesday super early in the morning. The monday I worked so not many news there. We went for lunch to Tang Gourmet, an eatery specialised in asian cuisine. Here you can find from vietnamiese sandwiches to lacquered duck. The same group also has asian supermarkets where you can find almost anything you want in the asian sector. One of them is not far from Tang Gourmet. This is a very well known address among Parisians. I don't think they cook their own food. It is still good, it is fast and it is cheap! We ordered half a lacquered duck with rice and crispy pork belly with rice. Miam!